Waterfront Condos
Enjoy living and playing on the majestic Northern Ohio waterfront.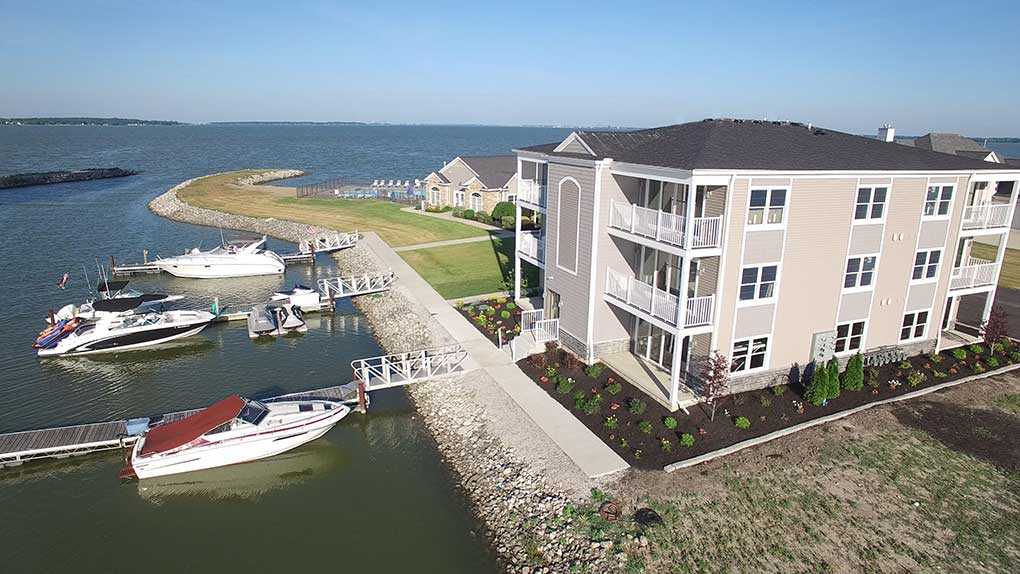 Waterfront Condos
Marblehead Estates & Yacht Club is the newest Marblehead, Ohio condo complex, a luxurious gated community that allows you to experience the scenery of the Great Lakes from the comfort of one of our magnificent beachfront condos. Be inspired by the breathtaking views of Lake Erie's shoreline, while recreating on one of the Midwest's most beautiful private beachfront condo locations. Our private lakefront community is the ideal place for you and your family to enjoy living and playing on the majestic Northern Ohio waterfront.
Resort-Style Living
Marblehead Estates & Yacht Club is the most exciting waterfront development on the shores of Lake Erie in decades. Living at the waterfront condos of Marblehead Estates allows you to truly appreciate resort-style living while taking in the magnificent views of Lake Erie. With easy access to Cedar Point, Sandusky Bay, Put-in-Bay and Catawba Island. Marblehead Estates is a perfect starting point for a long weekend away, or a summer spent visiting Ohio's collection of local wineries and lakefront parks and nature preserves.
Luxury Condominium Living
The Marblehead waterfront condos are situated in a prime location, enabling residents to experience everything that the surrounding areas of Catawba, Port Clinton and Sandusky have to offer. Along with a superior lakefront access and marina views, Marblehead Estates' waterfront condos also offer state-of-the-art design in all our luxury units. Our beautiful properties are designed around supporting the comforts of modern life while also sustaining the freedom and beauty of their natural surroundings.
NEW WATERFRONT CONDOS
FROM $204,900
Unit Amenities
Superior Lake Erie Views
Wide Open Floor Plans
Private Porches and Balconies
Abundant Natural Light
Designer Kitchens and Baths
Stainless Steel Appliances and Granite Counters
Custom Designs and Unique Floor plans Available
Construction Features
Super Insulated Construction and Design
Brand New High Performance Low-E Windows
High efficiency heating, cooling and hot water heaters
Green Roof Energy Options (available with some units)
Club Amenities
Condo Complex Sits Directly on the Lake Erie Shoreline
Steps Away from the Marina, Clubhouse and Pool
Maintenance Free Living, Full Groundskeeping and Maintenance Staff
24 Hour Secure Gated Community
Come find out today what makes the Marblehead Estates Lakefront Condo Complex one of the most beautiful and luxurious beachfront properties in the Midwest.
Make our brand new lakefront condominiums your home away from home.
Realtor: Tomi Johnson of Howard Hanna
(419) 798-5132
(419) 341-0276
(419) 798-9680
Howard Hanna
Catawba Office, OH
4054 E. Harbor Road
Port Clinton, OH 43452
(877) 734-5751